---
The Wellbeing at Work Event returns for the fifth year in London in November 2019. The event provides HR, Wellness, D&I & Business leaders with the opportunity to learn from experts and their peers about the latest wellbeing developments and successes that are enhancing individual and organisational performance in companies across the world.
Congratulations on an absolutely fantastic event – the best I have been to. The mix of speakers, styles, sessions & networking opportunities was brilliant!
Diversity & Inclusion Lead, Virgin Money

---
Speakers & Panellists Working With Quidnunc
March 2019
We are pleased to be working with distinguished thought leaders. All specialists in their field, who captivate, motivate and inspire audiences.
Topics include: digital disruption, creating an inclusive workplace, leading a purposeful business, AI & robotics.

---
Wellbeing at Work Event
London - 8 November 2018
This is one of five international one-day conferences that seek to provide a meeting point and discussion platform for business leaders, HR Directors and advisers covering the latest developments around wellbeing in the workplace.
The event will provide HR professionals and business leaders the opportunity to learn from experts and peers about the latest wellbeing developments and successes that are enhancing individual and organisational performance in companies across the UK and Europe.
---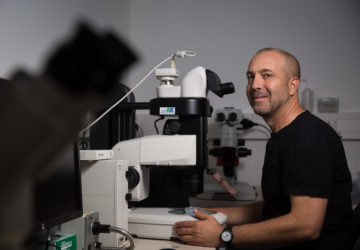 Professor Ehud Cohen
Researcher, Biochemistry & Molecular Biology
at The Hebrew University of Jerusalem
Q

uidnunc hosts a
parlour evening with
Professor Ehud Cohen,
of the Hebrew University
London - 6 September 2018

"What the humble worm teaches us about the treatment of Alzheimer's disease" - slowing the progression of ageing as a novel approach for the treatment of Alzheimer's disease.

Prof Cohen studies age-related diseases, trying to find out how to prevent these diseases from occurring by preventing protein aggregation, a key factor in the development of age-related diseases.
---
The Social Business Trust
London - 5 July 2018
At the SBT event for volunteers hosted by EY on the evening of 5 July, alongside Bain & Company, Clifford Chance. EY, Permira and Thomson Reuters, Quidnunc were honoured to receive an award.
This was presented by Larissa Joy, Chairman, for recognition of the support and effort that the Quidnunc team have invested on promoting the SBT.
SBT helps social enterprises grow, and to-date have impacted the lives of almost two million people. More details can be found on the SBT page
---
Agile Work Event
London - 15 March 2018
Now in its second year, this event will bring together HR, business and people leaders from across both the public and private sector. Debating and providing insight on the future of work, this event is aimed at those with responsibility for implementing smarter ways of working as more and more organisations consider the consequences of an agile working approach.
Quidnunc is pleased to continue its sponsorship of this event, with its focus on the future of work and the associated leadership learning opportunities. This event promises a comprehensive overview from different angles, inspirational speakers, evidence based sessions from a wide array of industries and an opportunity to network with others in that space.
Quidnunc will continue to capture delegate opinion from these one-day conferences with a dedicated event Quiz. Results will be captured, analysed and available on the Quidnunc and FOW Events website one week after the event.
---
Creating Healthy, Motivating Workplaces Conference
London - 6 December 2017
This one day meeting jointly organised by Occupational Medicine and Open Sections will discuss factors that create workplace environments that encourage employee engagement, productivity and health.

---
Wellbeing at Work Event
London - 1 November 2017
This is one of five international one-day conferences that seek to provide a meeting point and discussion platform for business leaders, HR Directors and advisers covering the latest developments around wellbeing in the workplace.
This year's event has secured another impressive line-up of speakers, including Pinsent Masons, EY, The Social Business Trust, Lloyds Banking Trust, Microsoft, PWC and Unilever.
Natalie Dee, Head of Programmes at Quidnunc, will be presenting her views on how the impact of EQ and an open mind-set on wellbeing will affect leadership in the future.

Charles Fair, Head of Insight & Analytics at Quidnunc, will be presenting his views on how behaviour can be effectively measured.
---
The Evolution of Wellbeing: A Behavioural Challenge for Leaders
by Natalie Dee
What does it take to be a leader today, and how will the leader of the future evolve? When we think of a leader we imagine someone in control of their responsibilities and the output from their people.
This cannot be executed without appropriate communication and interaction. Read more...
---
The Circle Of Wellbeing In The Workplace
by Natalie Dee
During my 30 years observing and coaching individuals and employees on wellbeing and life skills, I have noticed the strong link between happiness, health and overall wellbeing.
Wellbeing is hard to describe, it is a state of mind as a result of many factors: some we can change and others we can try to develop. Read more ...
---

Wednesday 29 March 2017
Learn how agile working continues to change the management of teams, employee flexibility and organisational culture using technology to empower and optimise business performance.
Quidnunc are a sponsor of this event.
The way in which we work is changing, but what does that mean for your business? Millennial's now make up 25% of the entire population in the UK and they expect agile working; unified communications, video calling, flexible working, the Cloud and everything in between.

Agile working is no longer an employee benefit, it's a necessity to attract and retain the best staff, it aids internally communication and employee engagement and it can provide a huge upturn in employee wellbeing. Agile working is now a board level concern, and the Agile Working event will welcome the UK's most forward thinking employers and minds to inspire new thinking, challenge assumptions and play a vital role in integrating agile working into day-to-day operations.

The use of technology within business is rising, but many organisations are unaware as to the solutions available to them and what it can mean for their business. Not only will you hear from technology solution providers who can help you on this journey, but you will hear from and meet organisations large and small who have implemented their own agile working strategy and the huge upturn it has had on employee output and the overarching benefits of agile working for business.

The Agile Working Event will provide you with some key takeaways wherever you are in your own agile working journey and arm you with a toolbox of ideas ready to take back and implement within your business. The Event will include a programme of influential speakers, debating panels, workshops and networking sessions where delegates can ask questions, exchange ideas and share experiences on a subject that has the potential to disrupt the world of work…. Forever.
---
Quidnunc attended Bullhorn Live - London 2016, held on 19th October at 155 Bishopsgate in the business centre, an annual showcase event for the staffing, recruitment and customer relationship management, (CRM), software company. A capacity 700+ Bullhorn customers, prospective customers and collaborative partners were provided with an opportunity to see the latest developments in the market, Bullhorn's new product development, (NPD), activities and network.
The event was compared by Peter Linas, international managing director, and commenced with an inspirational keynote speech from Bullhorn's CEO and co-founder Art Papas, who focused on three key themes in working in the 21st Century.
Transparency of business and recognising that, positive and negative responses to a business by its customers is instant and wide reaching.
Robots and the rise of machines in the coming years that will automate task based activities in the workplace and even replace people in office based environments.
Work & purpose with a need for a business to live by its mission and instil core values to its employees and externally with its customers.
Throughout the day there were a number of general sessions and seminars providing detailed usage of enhanced use of Bullhorn's CRM software and the add-ons from key partners, with potential release dates for major upgrades. A feature of the event was a session where a number of "in progress" NPD activities was demonstrated, with an on-line audience vote for which would be most beneficial to customers. This year it was won by improvements in access to mainstream data via the Bullhorn App.
The day ended with a relaxed networking opportunity, suitably enhanced with food and drink, with a Star Wars theme, and the main attraction being cakes in the form of C-3PO and R2-D2. Impressive and tasty too……….GBBO watch out !!!
---
Wellbeing Conference, London 19th October 2016
The Wellbeing at Work Event is a one-day conference in central London for HR professionals, business leaders and consultants. Learn from the experts and create an engaged workforce, improve productivity and reduce absenteeism.
Global communications and technologies are changing the world of work and employers are continuing to ask more of their employees. This event provides a forum for businesses to hear, meet and discuss wellbeing initiatives with leading experts and practioners to equip businesses with the tools to introduce or improve wellbeing programmes in the workplace.
Our client Hine Legal will be on the panel to provide the latest updates with regards to legal issues relevant to HR.
---
The Business Show, London 17th & 18th November 2016
Join Quidnunc at The Business Show where we will be presenting a panel discussion on business acceleration.
Our guest speaker Guy Tritton, IP Barrister of Hogarth Chambers, will introduce you to the importance and process of registering your intellectual knowledge so ensuring that your business protects its investible assets.
The Business Show is a free to attend and offers a wealth of opportunity, advice and information crucial for ongoing business growth within a challenging economy.
Suitable for businesses from a cross-section of industries, and providing you with everything needed to improve, develop and expand your business.